Advantages
ÉCO-MODULAIRE DES SOURCES House
Maison Énergéco moderne comptemporaine LEED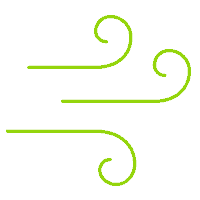 Air infiltration
Air infiltration can be a big part of the heating bill.  A good airtightness will maximize the conservation of thermal energy.   Les Maisons Éco-modulaire des Sources have a tightness rate verified by a blower door test.  A house has less than 0.8% air infiltration, which positions us to the maximum, compared to a standard house that ranges 5% for and more.  This difference will obviously save you on your energy bill compared to a standard construction.
Ventilation and heating
To have a truly healthy home, ventilation must be effective. In a waterproof "super" home, a heat recovery mechanical ventilation (HRV) unit will be required. An HRV consumes very little electricity and it can recover at least 80% of the heat of the expelled air.

The interior finish
The choice of materials is essential to constitute a healthy interior for the health of the occupants. In particular, we are trying to eliminate toxic products and materials, remove solvents and materials containing formaldehyde. Volatile organic compounds (VOCs) released by particle board, coatings, insulators, paints, varnishes and adhesives are frequently the cause of allergies and respiratory problems in hypersensitive people.
Water consumption
The rational use of water is also part of an ecological Énergéco house. Water-efficient toilets are installed, such as double flush toilets (3L and 6L), temperature controllers and flow rates for the shower and tub. In addition, we offer a rainwater recovery system should be used to water the vegetable garden and plants of the landscaping.
In short, it is not an easy task to build an ecological home and satisfy all these requirements. We will have to compromise and be sure to give a second life to the residues and waste when assembling the house. Our homes must be healthy and sustainable for people to minimize our carbon footprint on the planet.
insulation
Éco-modulaire des Sources houses are provided with superior thermal insulation. These will undoubtedly represent the best investment you could make. In addition to increasing your comfort, it will reduce your energy consumption.
Meeting deadlines
The construction industry is not always good at meeting deadlines. In fact, there are often unforeseen events that extend the time required to build a house on a construction site. bad weather, for example, can cause significant delays on the delivery date, resulting in all kinds of complications for the consumer. In the case of an Éco-modulaire des Sources manufactured home, the proposed schedule is easily respected, as the construction of the house takes place inside, under optimized conditions. The imponderables are almost zero. We give you a delivery date and the day said, the house is transported in room and module, on the field of your choice.
The quality of manufacture
Unlike previous years, today's prefabricated home is high quality product, building in a factory favors several aspects of a project, such as the quality of the work of the workers, the quality of the production and the protection of the materials against the bad weather that one normally finds on a construction site. The prefabricated house industry has given rise to many technological advances, both in manufacturing techniques and in machinery. The Éco-modulaire des Sources houses are very well insulated and are more watertight than conventional homes. In addition, Énergéco houses are always at the forefront of new developments in the industry and are constantly looking to improve their products.
Compétition oblige
(English soon) On retrouve également un très bon contrôle de la qualité dans les usines selon des normes très strictes. Si vous optez pour l'achat d'une maison préfabriquée, vous pourrez d'ailleurs constater par vous-même la qualité de votre maison en assistant à sa construction dans l'usine.
Resale benefits of an ecological home:
According to a new study by AVID Ratings Canada for the Canadian Home Builders' Association (CHBA), ecological characteristics rank second among the top 10 most desirable assets for homebuyers.  Conducted with 12,000 buyers across Canada, this market study reveals a predominant trend in living spaces and large storage spaces.  Also, there is the importance of energy efficiency for buyers.
Top 10 essential assets that sell your home
Walk-in closets
High energy efficiency appliances
General energy efficiency of the dwelling
Energy-efficient windows
Kitchen island
Wardrobe for bedding (lingerie)
Open concept kitchen Although more economical to buy, a simple air exchanger is not enough.
Large windows
Garage for two cars
Walk-in pantry
Energy benefits
Average Annual Energy Consumption of a Household (Statistics Canada 2011)
Single family house average
29 700 kWh/year
Apartment
9 200 kWh/year
Townhouse / duplex
26 000 kWh/year
MNZ (Énergéco house)
10 000 à 11 000 kWh/year
Energetic solar compensation
10 000 at ZERO
Un mode de vie urbain écologique
Les gestes posées aujourd'hui créent le futur de demain. Vous pouvez faire une différence en réduisant votre empreinte écologique avec une demeure bioclimatique.
Vivre en ville